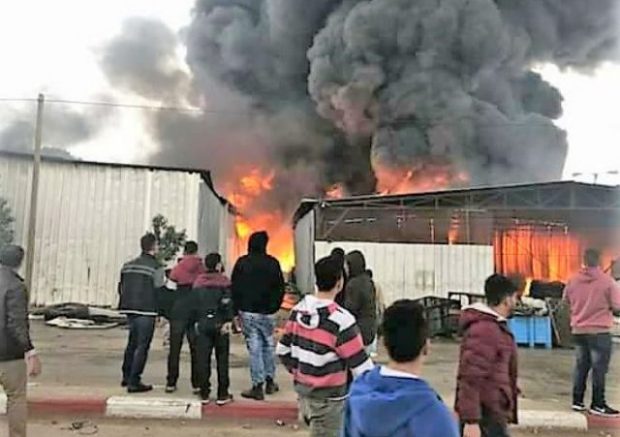 By TOI STAFF 26 February 2018, 12:22 pm The Times of Israel 
Source Link: Palestinians accidentally burn down own factory in protest against IDF soldiers
{You just can't make this stuff up, folks. – LS}
Israeli firefighters assist PA authorities in putting out blaze in village of Beita after rogue burning tire changes course

Palestinian protesters in the West Bank inadvertently burned down a local factory this week while confronting IDF soldiers near the West Bank city of Nablus.
According to Hadashot news, protesters in the Nablus-area village of Beita on Sunday were clashing with IDF soldiers, and rolled burning tires in their direction.
But one flaming tire had other plans and changed direction, rolling directly into a nearby plastics factory.
The building went up in flames and the factory was completely destroyed.
The report said Israeli firefighters arrived at the scene to help Palestinian Authority responders put out the fire.
The Nablus area has seen low-level clashes between Israeli security forces and Palestinian protesters after an illegally built Jewish settlement outpost in the area sparked tensions.
The makeshift homes in the outpost called Evyatar were dismantled by the army last week.