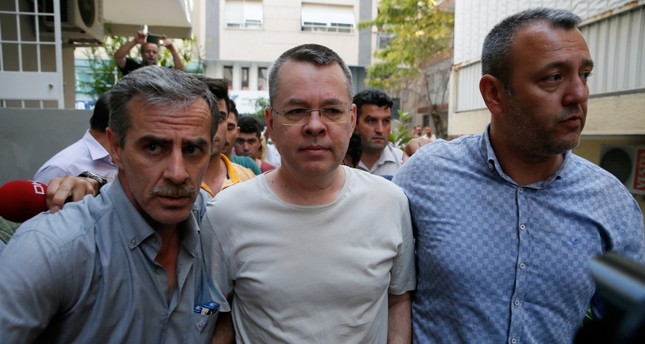 By The New York Times July 25, 2018
Source Link:
U.S. Pastor Moved to House Arrest in Turkey. Pompeo Says It's 'Not Enough.'

{I'm reminded of 'Daniel in the Den of Lions.' – LS}
An American pastor held on espionage charges in Turkey, the focus of an intensive campaign by top United States officials seeking his freedom, was moved from jail to house arrest on Wednesday because of health concerns.
Andrew Brunson, a 50-year-old evangelical pastor from North Carolina, has been held for more than a year and a half in a case that has aggravated already tense relations between Turkey and the United States, longtime allies. He is one of 20 Americans who were charged after a failed coup against President Recep Tayyip Erdogan in 2016.
President Trump spoke to Mr. Erdogan by phone about the case, and posted a message on Twitter last week urging the Turkish leader to "do something" to free the pastor.
On Wednesday, Secretary of State Mike Pompeo also took to Twitter to say that while the United States welcomed the "long overdue news that Pastor Brunson has been moved from prison to house arrest," the measure was "not enough."
"We have seen no credible evidence against Mr. Brunson, and call on Turkish authorities to resolve his case immediately in a transparent and fair manner," Mr. Pompeo wrote.
Just last week, a court in Turkey's western Izmir Province upheld an earlier decision to place Mr. Brunson in jail while he awaited the continuation of a trial on charges of terrorism and espionage. His lawyer appealed the decision, citing unspecified concerns over Mr. Brunson's health, according to the semiofficial Anadolu news agency.
On Wednesday, the same court ordered Mr. Brunson released into house arrest until his trial resumes in October. The court ordered him to wear an electronic bracelet at all times and barred him from traveling outside the country.
Footage of a car carrying Mr. Brunson, accompanied by a police escort, was shown live on television as the pastor was moved from a prison in Izmir to his home. He was later seen entering his home.
Mr. Brunson could face 35 years in prison if found guilty of having links to two groups Turkey considers terrorist organizations: a movement led by the American-based cleric Fethullah Gulen — whom Turkey accuses of initiating the 2016 coup attempt — and the Kurdistan Workers' Party.
Mr. Brunson, who has done missionary work in Turkey for 23 years, worked with his wife at a small Protestant church in the city of Izmir, on the country's Aegean coast. He has denied any links to terrorist organizations, and says he eschews politics in his work.
The American Center for Law and Justice, an organization representing Mr. Brunson's family, said in a statement on Wednesday that it looked forward to his ultimate return to the United States. It applauded Mr. Trump for pursuing his release.
"This is a critical first step that we believe will result in the freedom of Pastor Brunson so he can return to the United States and be reunited with his family," Jay Sekulow, the group's chief counsel, said in a statement.
Officials advocating for Mr. Brunson's release believe that resolving his case could signal an improvement in relations between the countries. The Turkish authorities have suggested handing Mr. Brunson over to the United States in exchange for Mr. Gulen's extradition to Turkey to face charges in the coup attempt. The Americans have rejected requests to extradite Mr. Gulen.
The United States Senate last month temporarily blocked the sale of F-35 fighter jets to Turkey because of Mr. Brunson's imprisonment and Turkey's purchase of a Russian air defense system.
A pro-government columnist, Abdulkadir Selvi, said in a televised comment that the dispute over Mr. Brunson had "reached a point that it was poisoning the relationship between the United States and Turkey." Of the pastor's move to house arrest, he said, "This is a step."
Mr. Selvi said that now it was the United States' turn to take "a step" to improve the relationship, alluding to Mr. Gulen.