Turkish army shells Kurds 'refusing to retreat' near Jarablus
Turkish army shells Kurds 'refusing to retreat' near Jarablus – state media Published time: 26 Aug, 2016 01:57
Source: Turkish army shells Kurds 'refusing to retreat' near Jarablus – state media — RT News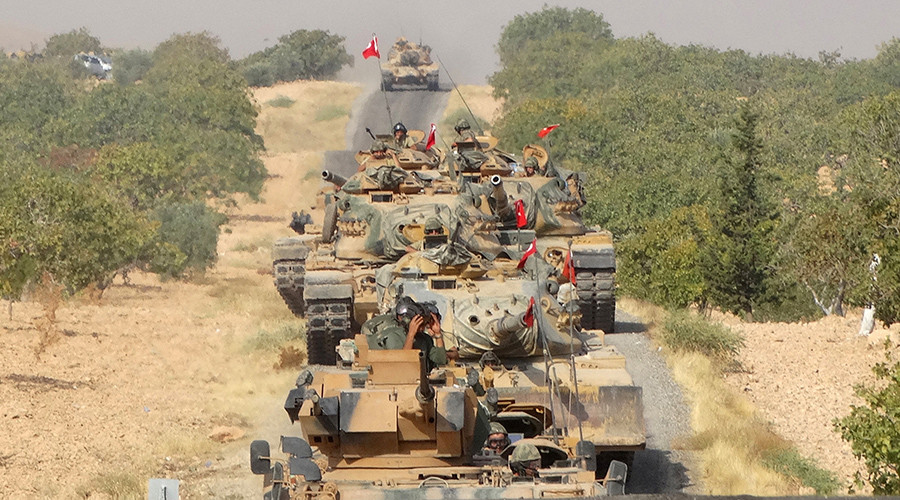 Turkish army tanks make their way towards the Syrian border town of Jarablus, Syria August 24, 2016. © Revolutionary Forces of Syria Media Office / Reuters
Turkish military have targeted US-backed Kurdish YPG militia with artillery fire south of the Syrian border town of Jarablus on Thursday, Anadolu state agency reported, citing a security source. The units allegedly refused to withdraw from the area despite warnings.
The group of YPG fighters were attacked with howitzers at about 6pm local time after they were spotted by Turkish intelligence advancing to Jarablus from the north of Manbij, the report said. Earlier, Washington assured Ankara that the US-backed Kurdish formations have been pulling out forces from the area to the east of the Euphrates River as demanded by Turkey.
READ MORE:Women burn burqas, men cut beards: Manbij celebrates liberation from ISIS (VIDEO, PHOTOS) 
"Kerry [US State Secretary John Kerry] emphasized that the PYD/YPG forces have been withdrawing to the east of the Euphrates," a Turkish security source was quoted by Hürriyet Daily News as saying following a telephone conversation between the US top diplomat and Turkey's foreign minister Mevlut Cavusoglu on Thursday morning.
While on a visit to Ankara on August 24, US Vice President Joe Biden pledged to withdraw the support of American forces to Kurdish fighters battling terrorists in Syria if they did not comply with Turkey's request to remain east of the river.
READ MORE:Turkey shells ISIS & Kurdish positions in Syria
"They cannot, will not and under no circumstances get American support if they do not keep that commitment. Period," Biden said at a joint news conference with Turkish PM Binali Yildirim.
Turkey has been conducting Operation Euphrates Shield since Wednesday after its troops entered the borderline territory in the north of Syria with the focus on retaking Jarablus from the Islamic State (IS, ISIS/ISIL) terrorists, which has been occupying it since July 2013. Justifying the incursion, which had not been authorized by the Syrian government, Turkey's President Recep Tayyip Erdogan said it is aimed at stopping frequent cross-border attacks and repelling "terror groups which constantly threaten our country like Daesh [Arabic derogatory name for IS] and the PYD [the Democratic Union Party of Syria]".
READ MORE:'Blatant violation of sovereignty': Damascus condemns Turkish operation in Jarablus

Meanwhile, Damascus slammed the offensive as "a blatant violation of sovereignty."
The shelling follows a statement by YPG command saying that Kurdish militia under its control had left Manbij and returned to its bases, turning over the control over the city to the Manbij Military Council, according to Al-Masdar News.
On Wednesday, the YPG denounced the Turkish military offensive in Syria as "a hostile intervention," refusing to cave in to pressure coming from Turkey.
"We won't listen to the demands of Turkey or powers outside of Turkey. Turkey cannot impose its own agenda, its own interests on us. Our forces are there. We will not withdraw from west of the Euphrates," YPG spokesman Redur Xelil said, as cited by Rudaw.
"Its main goal, more than ISIS, is the Kurds," he pointed out.
At the moment, at least 20 Turkish tanks are taking part in operation inside Syria with more armored vehicles are expected to join the effort in the coming days as the Syrian rebels supported by Turkish forces are "cleansing" the city from jihadists.
The former IS stronghold of Manbij was freed by Kurdish-led SDF from jihadists just two weeks ago after months of intense fighting.
The Kurdish People's Protection Units (YPG) are the armed wing of the Kurdish Democratic Union Party (PYD), close to the Kurdistan Workers' Party, which Ankara considers a terrorist organization. Turkey has been leading a military campaign against PKK insurgency in the country's south-eastern Kurdish-populated regions, which has been criticized by rights groups for its brutality. Numerous reports have also suggested that Ankara bombed Kurdish targets inside Syria while allegedly sparing Islamist militants that the YPG have been in bitter battle with.
Explore posts in the same categories:
Uncategorized
Tags: Isis, Islam, Islamic State, Islamic supremacy, Islamic terrorism, Kurds, Middle East, Middle East War, Russia, Syria, Terrorism, Turkey, USA, YPG
You can skip to the end and leave a response. Pinging is currently not allowed.