Israel's Strategy To Stop Iran's Existential Threats
Article from 26 Feb 2021
https://www.newsweek.com/israels-strategy-stop-irans-existential-threats-opinion-1571796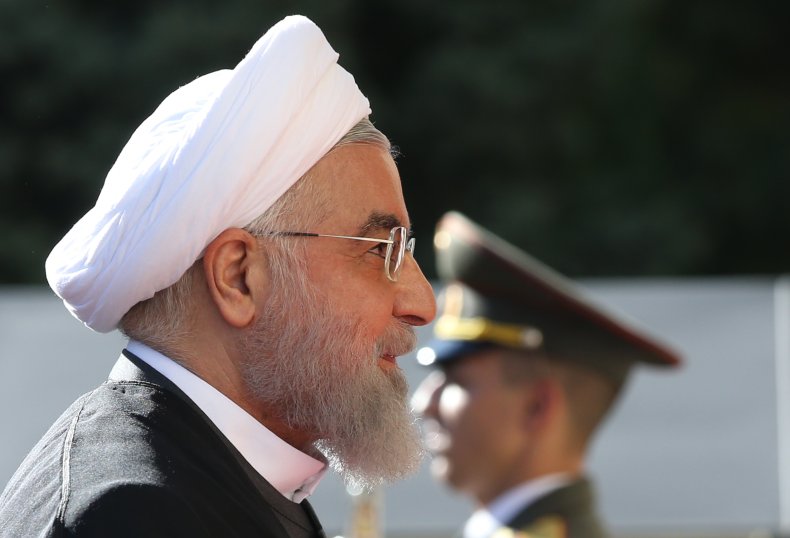 Israel is willing to take action to prevent Iran obtaining nuclear weapons, Israeli Defense Minister Benny Gantz said this week. His statement framed part of a full-court press of Israel warning of Iran's regional threats as Tehran continues to enrich uranium. Prime Minister Benjamin Netanyahu has long warned of Iran's pursuit of nuclear weapons, but the transition to a new administration in Washington has been exploited by Iran to increase its enrichment and threats. A senior Israeli defense official laid out to me this week how seriously Israel views the threat. Tehran should listen.
Israel has acted in the past to prevent Iraq and Syria from obtaining nuclear capabilities. Netanyahu warned in a 2012 speech to the United Nations that a red line must be drawn on Iran's nuclear enrichment program. Now Iran's Ayatollah Khamenei says Iran could increase the levels of enrichment to 60 percent. This is a nuclear numbers game that Iran uses like a game of chicken with the U.S., hoping the Biden administration will blink and jump right back into an Iran Deal 2.0.
For Israel, it's essential that the U.S. understand Jerusalem's views. Israel doesn't want a nuclear arms race in the region. Iran is an existential threat and no matter who wins Israel's elections next month, Israel will not accept a threat that violates its declared red lines. At the same time, Israel wants the U.S. and its Western allies to know that they can count on Israel to confront Iran's proxies and various entrenchments throughout the region. In January 2019, former Israel Defense Forces Chief of General Staff Gadi Eizenkot revealed that Israel had carried out more than 1,000 airstrikes on Iranian targets in Syria. Since then, Israel has continued what it calls the "campaign between the wars" to stop Iran's entrenchment in Syria and transfer of weapons to Hezbollah in Lebanon.
There is no substitute for U.S. power and influence in the Middle East, the senior Israeli defense official told Newsweek this week. This unshakable bond with the U.S. is essential, as is bipartisan support for Israel in Congress. Part of this support for Israel also anchors the Jewish state in the region via new U.S.-brokered peace deals with the United Arab Emirates and Bahrain, and it is linked to U.S. support for other important partners, such as Egypt, Saudi Arabia and Jordan. While the Biden administration has been critical of Egyptian and Saudi human rights abuses, as Secretary of State Antony Blinken recently indicated in a call with his Egyptian counterpart, Israel hopes this criticism will go hand-in-hand with continued U.S. support.
The threats are too grave for the U.S. and European allies, such as France and Germany, to take their eyes off the threat. Iran's nuclear program is connected to its broader destabilizing policies, from fueling the Houthi rebels in Yemen and arming them with ballistic missile and drone technology, to moving rockets to Iraq that threaten U.S. troops and Israel. Iran today is one of the leading countries in the world for ballistic missile technology.
The strategic paradigm for Israel today is multilayered. It wants to increase its ability to deter Iran, for instance, through acquisition of more F-35s and other aircraft from the U.S., along with its own development of new air defense capabilities. It also wants Iran to end its long-running entrenchment in Syria. An American commitment to Syria, or even a U.S. deal with Russia on Syria, might reduce Iran's freedom of maneuver there. Any new Iranian nuclear deal must prevent future enrichment and not merely enable Iran to continue enrichment after a certain time period, as the 2015 deal did. Iran was supposed to keep stockpiles of enrichment at 3.67 percent. Instead, it has installed advanced centrifuges at Natanz and Fordow.
Iran thinks that it can use this nuclear blackmail to get the U.S. and the West to do what it wants. But Israel is messaging to Washington and others how seriously it takes the Iranian threat. Iran is becoming reckless, with recent rocket attacks on U.S. troops in Iraq, and is encouraging attacks on Saudi Arabia. In Lebanon, Hezbollah even fired a missile at an Israeli drone this month.
In mid-February, days after Hezbollah fired the missile at an Israeli drone, and the day before Netanyahu and President Joe Biden first spoke by phone, Israel launched a surprise air force drill in which it simulated striking up to 3,000 targets a day. A week later, Netanyahu and Gantz warned Iran that Israel was serious about preventing a nuclear Iran. Tehran should listen.
Explore posts in the same categories:
Uncategorized