Iraq attack LIVE: Iran launches missiles at US forces in Iraq over Soleimani death
Whoa boy, here we go. Gloves are off.
Videos at the link.
https://www.theage.com.au/world/middle-east/iraq-attack-live-iran-launches-missiles-at-us-forces-in-iraq-over-soleimani-death-20200108-p53pra.html
Summary
Iran has targeted US forces in Iraq with "dozens" of missiles
At least two military bases containing US troops have been targeted
Iran's attacks are in retaliation for the US killing of Iranian general Qassem Soleimani
Pentagon is conducting "initial battle damage assessments"
Iran state TV says the attack was called "Operation Martyr Soleimani"
Australia 'closely monitoring' events
Prime Minister Scott Morrison says the government is "closely monitoring" what's unfolding, and whether action needs to be taken to keep Australians safe.
He has just released a statement:
The Prime Minister, Chief of the Defence Force and Ministers for Defence and Foreign Affairs are in frequent contact.
The Prime Minister has directed the Chief of the Defence Force (CDF) to take whatever actions are necessary to protect and defend our ADF and diplomatic personnel and keep Australians safe.
The Prime Minister has contacted the Leader of the Opposition to brief him on the current situation.
The National Security Committee of the Cabinet has been meeting to review this situation and take decisions as necessary since Saturday, is already scheduled to meet again for this purpose on Thursday and will be convened sooner should further information be confirmed requiring such a response, and will be done so in consultation with the CDF.
Two attacks have been confirmed: one on the Ain Asad airbase, the second at Erbil in Northern Iraq.
What prompted these attacks?
The Iranian attack comes in response to the US killing of Iran's top general Qassem Soleimani. If you don't know much about him, this piece will give you a sense idea of the outrage caused by his assassination.
And this piece will tell you more about who Soleimani is and why the US wanted him dead.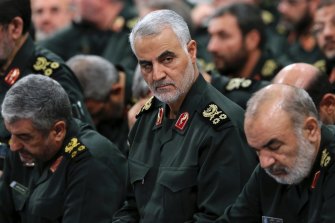 Iran state TV airs footage of attacks
By Patrick Elligett
Iran's FARS news agency broadcast footage of missiles being launched from inside Iran. At least two military bases housing US forces in Iraq have been targeted.
Footage posted by FarsNews Agency, regarded as the 'semi-official' news agency of the Government of Iran, claims to show a missile attack on Ain Assad air base in Iraq's western Anbar province.
Explore posts in the same categories:
Uncategorized