Flurry of Code Red alerts sounded as IDF batters targets in Gaza
Successive Code Red alerts sounded in the Sha'ar HaNegev Regional Council and Hof Ashkelon as Israeli jets strike Hamas and Palestinian Islamic Jihad targets in retaliation for earlier mortar salvo; Iron Dome intercepted some, no injuries or damage immediately reported as residents rush to bomb shelters.
At least 10 code Red alerts were sounded near the Gaza Strip on Tuesday afternoon while the IDF began battering Palestinian Islamic Jihad and Hamas targets in the coastal enclave in retaliation for a salvo of 30 mortar shells that were fired into Israel earlier.
No damage or injuries were immediately reported after the most recent chorus of Code Red alerts wailed at 2:40pm throughout the Sha'ar HaNegev Regional Council as rockets peppered southern Israel. A second wave was then sounded in Ashkelon's industrial region and Sderot, only to be followed by a third wave of 3 rapid siren blasts.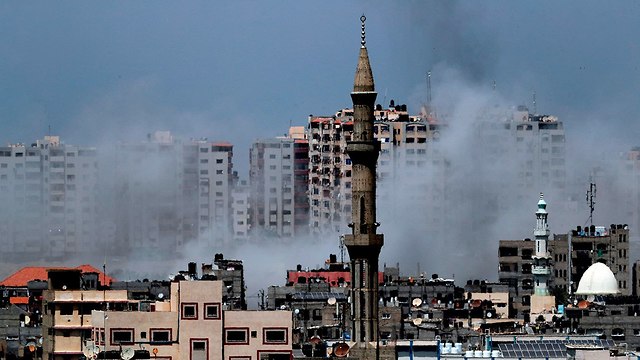 IDF attacks in Gaza
(Photo: AFP)
The Iron Dome missile defense system intercepted several of the rockets or mortars that whistled through Sderot's skies as residents of Israeli towns near Gaza were instructed to return to bomb shelters for a second time in one day.
In total, the Iron Dome system intercepted 25 projectiles between the first barrage and Tuesday afternoon.
The IDF began hitting targets in Gaza on Tuesday morning as Prime Minister Benjamin Netanyahu vowed to respond with "great power" to the strip's aggression.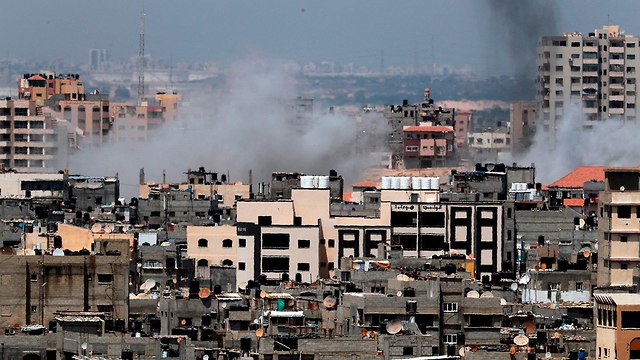 Photo: AFP)
Israeli jets began dropping bombs at what security officials in Gaza called Islamic Jihad militant training site. Smoke was seen rising near the town of Deir al-Balah in the coastal strip and the Israeli military said the explosions there were related to its activity. No injuries were reported.
"Israel views gravely the attacks against it and against its communities by Hamas and the Islamic Jihad from the Gaza Strip," the prime minister said at the Ma'alot-Tarshiha Galilee Conference. The IDF will respond with great power to these attacks. Israel will exact a heavy price and I see Hamas as bearing responsibility."
Associated Press contributed to this report.
Explore posts in the same categories:
Uncategorized