Hamas calls for intifada in response to Gaza deaths
Deputy Hamas leader urges Palestinian uprising in Gaza and West Bank in the wake of high death toll on the strip's border; Netanyahu: 'Every country has an obligation to defend its borders.'
Hamas called for an uprising on Monday night after violent clashes on the Gaza border resulted in a high death toll.
"The natural reaction to the death of people who were protesting peacefully should be with an Arab and Islamic intifada (uprising)," said Khalil al-Hayya, the deputy Hamas leader. "The Palestinian response must be clear in Gaza and in the West Bank. There is no other choice but to light the fire in Gaza and in the West Bank in response to what happened."
"Hamas is monitoring the marches and stands as a shield for them," he added.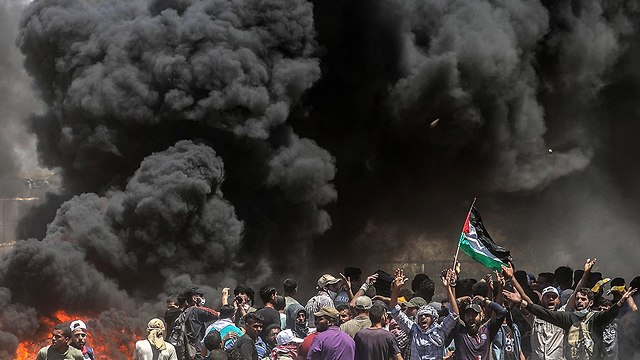 Palestinian protesters on the Gaza border
(Photo: EPA)
About 40,000 Palestinians have gathered near the fence in 13 hot spots along the border since the morning hours. Several thousand others were located in the tent area about half a kilometer from the fence. At 5:30pm, Hamas ordered all those present in the border area to return home.
At least 52 Palestinians were killed from IDF fire on the Gaza border, with over 1,200 suffering gunshot wounds and 1,200 others suffering other injuries. This is the highest Palestinian death toll since Operation Protective Edge in 2014.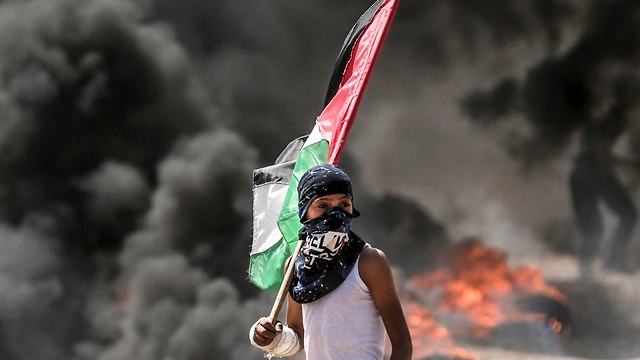 Prime Minister Benjamin Netanyahu, who held security consultations on Monday evening in light of the clashes on the Gaza border, said Israel was acting in self-defense.
"Every country has an obligation to defend its borders," Netanyahu wrote on Twitter. "The Hamas terrorist organization declares it intends to destroy Israel and sends thousands to breach the border fence in order to achieve this goal. We will continue to act with determination to protect our sovereignty and citizens."
Defense Minister Avigdor Lieberman also held consultations on Monday evening with IDF Chief of Staff Gadi Eisenkot, instructing him "to continue acting with determination to prevent any attempt to undermine Israeli sovereignty and Israeli citizens, in accordance with the policy outlined."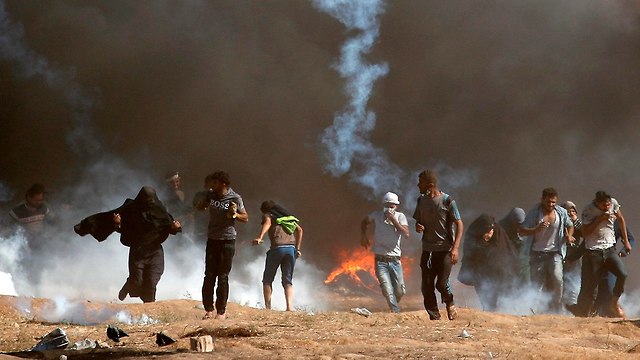 (Photo: AFP)
Palestinian President Mahmoud Abbas, meanwhile, called the new US embassy, which was opened in Jerusalem on Monday, "a US settlement outpost," saying the Palestinians would reject any American mediation in peace talks with Israel and demand at least two different international mediators.
"We received Trump's peace plan; the Americans removed the issue of refugees and Jerusalem from the negotiations. We won't accept this deal and we don't want to hear from the United States anymore," he said.
Explore posts in the same categories:
Uncategorized
One Comment on "Hamas calls for intifada in response to Gaza deaths"