Erdogan hopes Kurdish-held Afrin town to be fully captured by Turkey Wednesday evening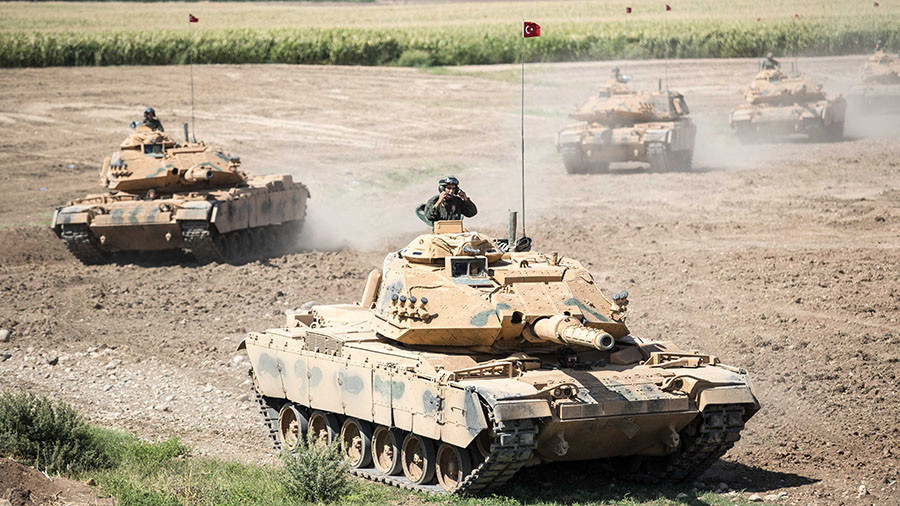 FILE PHOTO. © Emrah Oprukcu / Global Look Press
The Kurdish Syrian enclave of Afrin "will soon fall completely, God willing," Turkish President Recep Tayyip Erdogan declared in a speech. He added that he hopes it will happen by Wednesday evening.
The statement came as Erdogan addressed local administrators at the presidential compound in Ankara. He also said civilian residents of the area were being evacuated through humanitarian corridors organized by Turkey.
Ankara launched an operation in northwestern Syria two months ago after the US announced that it was planning to boost the predominantly-Kurdish militia force, SDF, with training and weapons. The militias played the role of the ground force for the US-led siege of Raqqa, the now-destroyed stronghold of the terrorist group Islamic State (IS, formerly ISIS).
The Turkish government considers Syrian Kurdish militias an extension of the domestic Kurdish militant movement, the PKK. Ankara and the PKK have been locked in a decades-long armed conflict that claimed thousands of lives. The empowerment of Syrian Kurds was perceived as a serious threat to national security by the Erdogan government.
Ankara is not planning to seize Syrian territories, Turkish Foreign Minister Mevlut Cavusoglu said on Wednesday during a press conference. "The aim of Afrin operation 'Olive Branch' is to eliminate terrorists in the region," the minister stated. He added that Turkey agreed with the US that militants should leave the Afrin region and nearby Manbij city in northeastern Syria.
In the meantime, the Syrian Kurdish YPG (People's Protection Units) said Erdogan is unrealistic about his plans in Afrin. "This evening he [Erdogan] will take all of Afrin?" YPG spokesman Nouri Mahmoud asked, according to Reuters. "Erdogan is lying to the people, I don't know how this would happen," he added. Turkey considers the YPG to be an arm of the PKK movement, dubbed a terrorist organization by Ankara.
Erdogan has reproached NATO allies over their failure to support his "counter-terrorist" operation in the Kurdish-held Syrian region.
"Hey NATO where are you? We're fighting so much. NATO, is Turkey not a NATO country? Where are you? You've invited NATO-member states to Afghanistan," Erdogan said in an inflammatory comment.
Explore posts in the same categories:
Uncategorized
One Comment on "Erdogan hopes Kurdish-held Afrin town to be fully captured by Turkey Wednesday evening"