Turkish planes bomb Syrian Kurdish targets as Ankara-backed rebels enter Afrin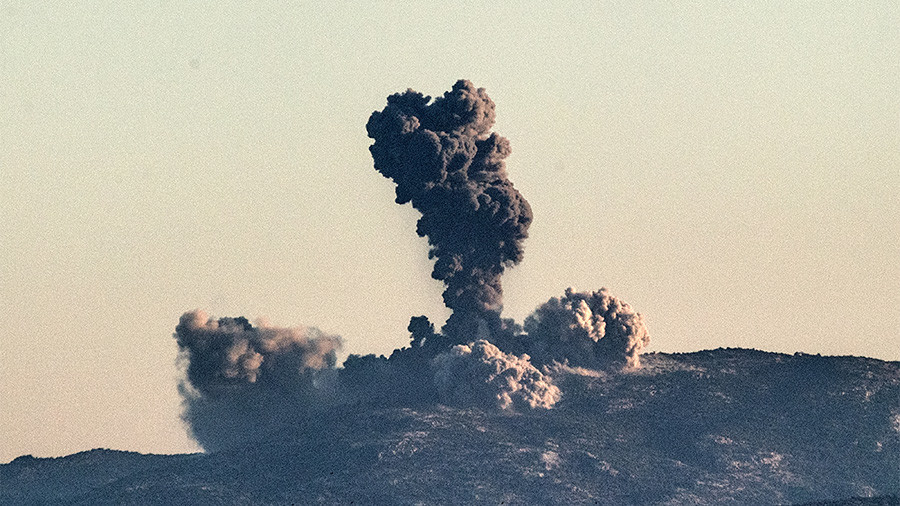 Turkish aircraft have bombed Kurdish targets in Syria's Afrin, according to the Turkish prime minister. Turkish-backed Syrian opposition fighters have also entered the Kurdish enclave, state media reported.
"TSK (Turkish Armed Forces) has started airborne operations," Prime Minister Binali Yildirim said at a party congress on Saturday, as quoted by Hurriyet. Yildirim said eight F-16 aircraft were involved in the aerial sortie.
READ MORE: Turkish field op against Afrin Kurds 'de facto underway' – Erdogan
"As of this moment our brave Armed Forces have started the aerial offensive to eliminate the PYD and PKK and [Islamic State] elements in Afrin," Yildirim said.
Turkey's General Staff has officially declared the start of the operation, dubbing it 'Operation Olive Branch,' according to a statement cited by Turkish newspaper Sol.
AP journalists at the Turkish border reported seeing at least five jets heading toward Afrin. Also sighted was a convoy of buses, believed to be carrying Syrian opposition fighters, and trucks mounted with machine guns.
The US-backed Syrian Democratic Forces (SDF) have meanwhile accused Turkey of using cross-border shelling as a false pretext to launch an offensive into Syria, according to Reuters. The SDF, an alliance of Kurdish and Arab militias fighting Islamic State (IS, formerly ISIS), said it will have no choice but to defend itself if attacked. The alliance controls areas in Syria's east and north.
Russia's Foreign Ministry said Moscow is closely following the situation, citing concerns over recent developments in the area. The ministry's statement called on all sides in the conflict to exercise restraint.
It comes after Turkish President Recep Tayyip Erdogan said earlier on Saturday that Ankara had "de facto" begun its operation against Kurdish forces in Afrin. He said the operation would be "followed by Manbij," referring to the Kurdish-controlled town in northern Syria.
Explore posts in the same categories:
Uncategorized
2 Comments on "Turkish planes bomb Syrian Kurdish targets as Ankara-backed rebels enter Afrin"
January 20, 2018 at 6:54 PM

The USA will probably once more throw the heroic kurdish freedom fighters before the bus…
What a shameful disgrace !!!!
Mr Trump is meanwhile having a great time
in Davos / making a lot of empty words like all
the others who have a great time in Davos on taxpayers money !!
I have to throw up ….

January 20, 2018 at 7:24 PM

To early for me to make a conclusion on the actions of the Trump administration in this matters, but i do not have high hopes !
It is a very complicated issue , NATO partner against NATO partner, perhaps we see a reconstruction of NATO.
I can dream , can I ?
Turkey would lose any importance if we could team up with Russia , again, frustrating Russia is not good for the world .