Spokesman: Senior Hamas official shot in the head
By Adam Rasgon, The Jerusalem Post
January 9, 2018 13:11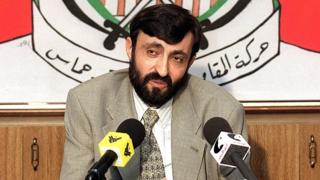 {I never realized examining your gun could be so dangerous. – LS}
Imad al-Alami is in critical condition.
Senior Hamas official Imad al-Alami on Tuesday was admitted to a hospital in Gaza City after being shot in the head "while examining his personal weapon in his home," Hamas Spokesman Fawzi Barhoum said.
Alami is known as a hardliner and has supported Hamas's ties with Iran.
In a Facebook post, Barhoum said that Alami is in "critical condition."
On Tuesday afternoon, Senior Hamas officials including Hamas Politburo Chief Ismail Haniyeh and Hamas Chief in Gaza Yahya Sinwar visited Alami in the intensive care unit in Gaza City's Shifa Hospital, Gaza-based media reported.
Alami has been a Hamas member since the late 1980s and was the first Hamas representative in Tehran.
In 2012, he returned to Gaza after spending a number of years outside of the Palestinian territories.
In 2014, one of his feet was injured in an Israeli air raid during Operation Protective Edge, according to Hamas's official website.
Explore posts in the same categories:
Hamas
Tags: Gun Safety
You can skip to the end and leave a response. Pinging is currently not allowed.