Tillerson hints at deal to resolve Arab-Israeli conflict in one fell swoop, Moscow waits in wings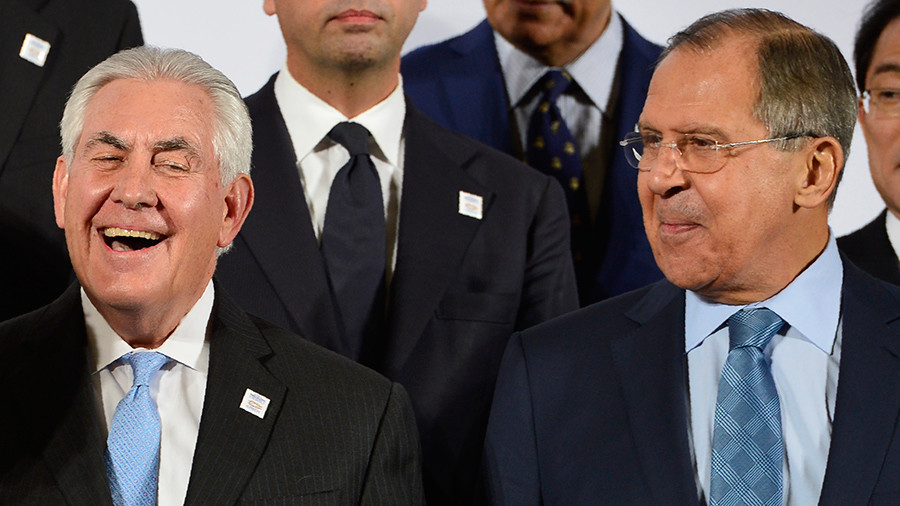 FILE PHOTO: US Secretary of State Rex Tillerson (L) and Russian Foreign Minister Sergey Lavrov © Sascha Schuermann / AFP
The US secretary of state believes he can resolve the decades-old conflict between Israel and its Arab neighbors in a single 'deal of the century.' Moscow is waiting with bated breath to hear the details of the plan, according to its top diplomat.
"Rex [Tillerson]… hinted to me that the United States is expecting to strike a 'deal of the century,' which would resolve the Palestinian-Israeli problem in one swoop," Sergey Lavrov said. "We certainly want to understand how they see this happening."
The comments by the Russian foreign minister followed a decision by US President Donald Trump to recognize Jerusalem as the capital of Israel, reigniting hostility between Israelis and Palestinians.
Israel occupied the eastern part of the city, which is considered holy by all three major religions in the region, during the 1967 Arab-Israeli War, along with large parts of Palestinian territories. The occupation was not recognized as legitimate by any other nation and, similarly, no nation has acknowledged Israel's declaration of Jerusalem as its capital – until now.
Lavrov joined an international chorus of criticism over the move by the Trump administration. "The fact is that the statement [of recognition] goes against all the previous agreements," he said, adding that it divided global communities into two "very, very unequal parts." Israel is the only nation openly endorsing the move, but some US allies like Canada have refrained from criticizing it too loudly.
Lavrov, who was speaking to journalists in Vienna, said the Trump administration has shot itself in the foot with the decision, undermining their own Middle East strategy. "They previously said, let's normalize the relations between Washington and the Arab world, and once it is done, the Palestinian issue can be resolved," he said. "By taking the decision to move the US embassy to Jerusalem the Trump administration have undermined their effort to normalize the relations with the Arabs."
Explore posts in the same categories:
Uncategorized