Russian Su-27 warns off NATO F-16 trying to approach defense minister's plane over Baltic
Published time: 21 Jun, 2017 09:29
Edited time: 21 Jun, 2017 11:55
Source: Russian Su-27 warns off NATO F-16 trying to approach defense minister's plane over Baltic (VIDEO) — RT News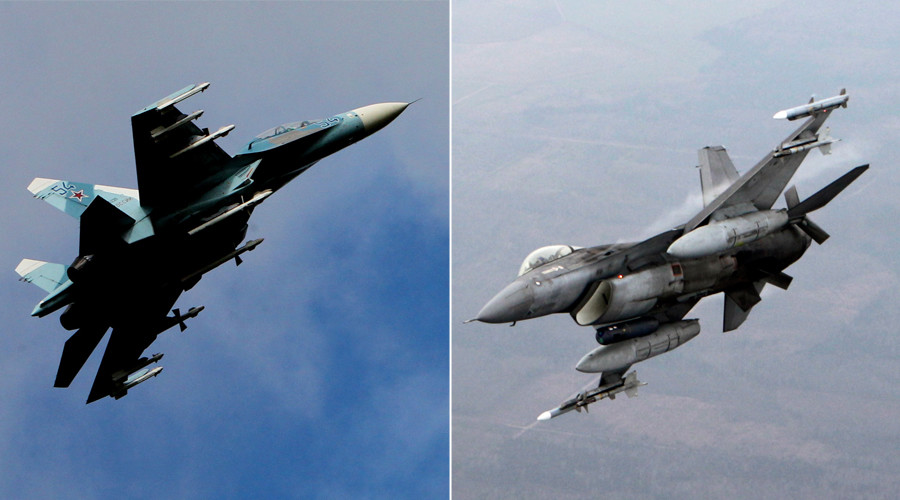 FILE PHOTO SU-27 and F-16 fighter jets © Sputnik / Reuters
A NATO F-16 fighter jet has tried to approach the Russian defense minister's plane above the neutral waters of the Baltic Sea. The plane was warded off by a Russian Su-27 escorting the minister's aircraft.
Russian plane was en route to the city of Kaliningrad, a western Russian exclave between Poland and Lithuania on the Baltic Sea, where Defense Minister Sergey Shoigu is scheduled to discuss security issues with defense officials on Wednesday.
The incident was first reported by journalists of Russian state news agencies on board Shoigu's plane.
While one NATO aircraft tried to approach the Russian airplane, a Russian Su-27 fighter jet got in its way and tilted its wings, apparently showing its arms. The F-16 then flew away.
Kremlin spokesman Dmitry Peskov said that he has no information about the incident.
"It's probably better to ask the Defense Ministry," Peskov said in answer to journalists' questions.
On Monday a US RC-135 spy plane flying toward the Russian border made a "provocative turn" toward a Baltic Fleet Su-27, which had been scrambled for an interception mission.
The encounters of Russian and US warplanes over the Baltic Sea waters have apparently become more frequent lately. A Russian fighter jet intercepted a small group of US warplanes, including Boeing KC-135 Stratotanker military refueling aircraft, two B-1 bombers and one B-52, during the BALTOPS (Baltic Operations) annual training exercise on June 10.
Earlier in June, the Russian military intercepted another B-52 bomber in the same area, and escorted by an Su-27 fighter away from Russian territory.
Explore posts in the same categories:
Uncategorized
One Comment on "Russian Su-27 warns off NATO F-16 trying to approach defense minister's plane over Baltic"
June 21, 2017 at 2:21 PM

How long can Putin keep his military apparatus under control ???

Why is the USA keeping provoking Russia , do we want a WW III ??

What the heck is the USA doing in Syria, not fighting isis, isis in nearly done in Syria by Russia and Assad forces .
There is a lot more work to do in Iraq and so on !

A WW III will definitely help the deplorable economical situation and the debt balance . a nice reset .

Lets do it, start trowing nukes around , maga !

PS: is it sure that Trump has complete control over the USA military apparatus ??????