In Moscow, presence of IDF generals sends a message of military urgency
In Moscow, presence of IDF generals sends a message of military urgency In rare move, Netanyahu brings both IDF chief and intelligence head to Russia to drive home concerns on Hezbollah, Syria By Judah Ari Gross September 21, 2015, 11:54 am
Source: In Moscow, presence of IDF generals sends a message of military urgency | The Times of Israel
n a sign that it has not taken last week's movement of the Russian military into Syria lightly, Israel sent not one but two members of the IDF General Staff with Prime Minister Benjamin Netanyahu to Moscow Monday, in an effort to hash out the precarious relationships between Israel, Russia, Syria and Hezbollah.
Both IDF Chief of Staff Lt. Gen. Gadi Eisenkot and Military Intelligence Head Maj. Gen. Herzl "Hertzi" Halevi are accompanying Prime Minister Benjamin Netanyahu to discuss the movement of Russian troops into Syria with Russian President Vladimir Putin and his advisers.
The presence of either one of these generals on this trip would be notable in itself. That both are traveling with Netanyahu is meant to demonstrate to both the people of Israel and the government of Russia the gravity of the situation on Israel's northern border and the IDF's intention to keep up airstrikes on high-priority Hezbollah targets in Syria.
Israel has admitted to targeting several Hezbollah and Syrian weapons facilities and convoys in the past several years, and it has been assumed that the Israel Air Force has carried out many more, despite officials' refusal to claim responsibility.
Most such attacks have been against so-called advanced weapons systems — missiles and artillery guns, rather than rifles and grenades.
Putin, however, complicated Israel's strategies vis-a-vis Hezbollah and Syria when he announced that the Russian military would be moving into the war-torn country, setting up in the port city of Latakia.
Satellite images already show Russian-made artillery guns and SU-30 combat planes in the northwestern Syrian city.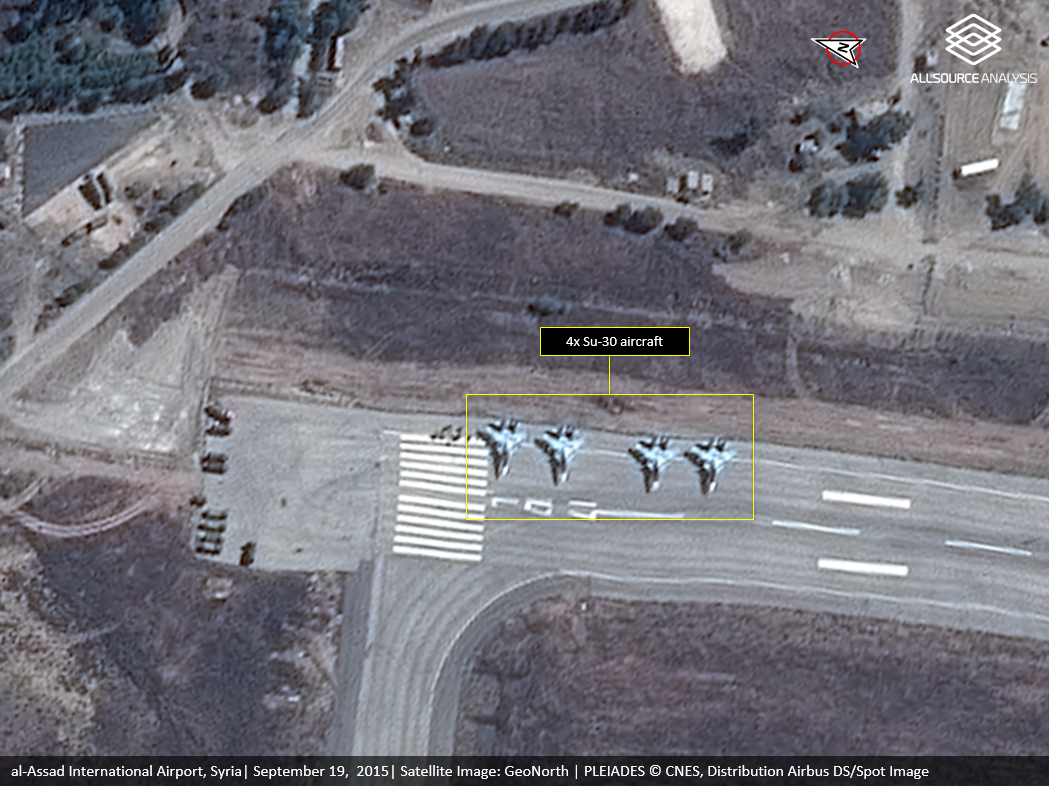 The presence of Russian soldiers in the country is an added obstacle for the IDF, which must now continue to prevent Israel's enemies from obtaining dangerous weapons, without causing an international incident by killing an ally's soldiers.
In 2013 and 2014, Israel was suspected of having carried out airstrikes on weapons sites in Latakia. With Russian military now present in the city, similar attacks may be more difficult to carry out.
Though the Israeli government has not released an itinerary for Monday's trip, Eisenkot and Halevi will likely meet with their Russian army counterparts to address two related issues: preventing Hezbollah from obtaining Russian-made weaponry and Israel Air Force strikes against the advanced weapons systems already in the possession of the Iran-aligned militia.
Though some of Hezbollah's arsenal comes from Iran, several of its deadliest weapons — the Kornet anti-tank missile, which has been deadly in combat against Israeli Merkava tanks, and the Katyusha rocket, which rained down on Israel's northern cities during the Second Lebanon War in 2006 — come from Russia.
Though many of these weapons systems were intended for Syria, some have nevertheless ended up in the hands of Hezbollah, according to Nadav Pollak, a senior fellow at the Washington Institute for Near East Policy.
Some of the systems sold by Russia include anti-aircraft guns and surface-to-air missiles, which could be devastating to Israel's air superiority in a future conflict with Hezbollah, Pollak said.
As head of intelligence, Halevi will likely present information to the Russian military, showing how these Russian-made weapons end up in the hands of Hezbollah, Pollak explained.
In addition to attempting to prevent further such transfers, Netanyahu, Eisenkot and Halevi will also discuss Israel's plans to destroy those advanced systems the terrorist organization has already acquired.
As Hezbollah has been closely aligned with Russia's ally Assad, this may be a sticking point with Putin, though it is not one Israel is prepared to give up on, Yossi Cohen, national security adviser to the prime minister, told the Israel Hayom newspaper Monday.
Netanyahu will tell Putin that Israel won't accept restrictions on its response capabilities in Syria, Cohen said.
As Israel's strikes against Hezbollah have taken place on Syrian territory, which violates its sovereignty, Pollak explained, "there is a chance that Russia will express its objection to this policy."
The United States has also voiced concerns over Putin's role in the Syrian civil war.
"Continued military support for the regime by Russia or any other country risks the possibility of attracting more extremists and entrenching Assad, and hinders the way for resolution," US Secretary of State John Kerry told reporters in Germany on Sunday.
Kerry has proposed military-to military talks with Russia to prevent any clashes between US and Russian forces in the region, to ensure that "there's no potential of a mistake or of an accident of some kind that produces a greater potential of conflict."
Explore posts in the same categories:
Uncategorized
Tags: Benjamin Netanyahu, Foreign Policy, Hezbollah, IDF, Islam, Islamic Jihad, Islamic State, Israel, Middle East, Middle East War, Minister Benjamin Netanyahu, Netanyahu, Obama, Obama's America, Russia, Russian military, Russian President Vladimir Putin, Syria, Terrorism
You can skip to the end and leave a response. Pinging is currently not allowed.
8 Comments on "In Moscow, presence of IDF generals sends a message of military urgency"
September 21, 2015 at 1:46 PM

Perilous days await the world with these moves by the Russians.Israel is being pushed into a corner in which it will have fight and prevail in order for it to not to be cornered and neutralized.

September 21, 2015 at 2:01 PM

Israel will have to be careful from now on with their tactics in Syria.
one thing is to have a clear, clean hand in that country.
Another very different story is if Russia gets involved.
And, for now, Russia's plans in the country are a big question mark.
Netanyahu is doing the right thing. Dialogue with Putin is the way to go forward re Syria's issue.

September 21, 2015 at 3:26 PM

Obama lacks the political clout combined with the fact they he fails to understand how to wield US political and economic power on an international level. In addition, a clear majority of Americans will not tolerate another Mideast war, much less a confrontation with Russia which could go nuclear with the push of a button.

September 21, 2015 at 3:38 PM

Excellent point Louisiana. I fully agree.
The LAST thing the world needs is another major conflagration…
that could go nuclear.
Only apocalyptic retarded morons pursue that.
Not sure if they understand that not even them will survive.

September 21, 2015 at 3:50 PM

Exactly. Imagine the vast wheat fields in the US that feed the world being tainted with a radioactive witch's brew of deadly isotopes coupled with the contamination of feedstock for livestock. Down here, alligator meat is not something I want to eat everyday.

September 21, 2015 at 4:03 PM

Ha, ha,
good comment. Neither would I.

Just on a positive note, I would like to say that according to a friend of mine that lives in Moscow, the official TV there has just stated, as soon as Netanyahu has left Russia, that Putin has absolutely assured him that Syria will not attack Israel.
If we think about it with a cold, neutral head, it makes total sense.
Syria is a wreck as a country, and their absolute priority is to save the state and government against the IS.
And finally, in my personal opinion, there's no way in hell that Putin will allow Assad to destabilize the whole region with an unnecessary attack on Israel.

I'm optimistic about that. Syria is now just trying to survive.

September 21, 2015 at 4:11 PM

The ss-300 is Russia's response to the IDF attacks on Syria and definitely a deterrent for an attack on Iran.Russia now calls the shots in that area of the world.Sad days ahead.